Description
For Indoor Or Outdoor Security Try 3 Camera NVR Security System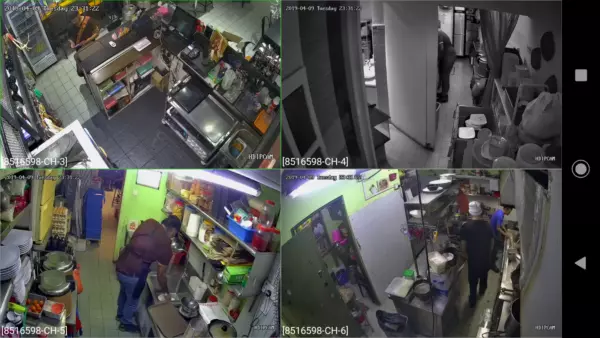 Reduce the chance of theft or vandalism with 3 Camera IP Security System. Sporting 1080 lines of resolution you get high quality, stable video. Easy to access through handhelds and PC's, you can see what's happening when it's happening. Live in cold climate? The weather-proof housing protects the surveillance camera from all kinds of weather. Installing an HD CCTV camera is simple with easy mount brackets and is a simple solution to home or office security.
Experience High Quality, Stable Video Performance With Revlights Security's 3 Camera IP Security System.
At Revlight Security Company we can provide you with the latest and most technologically advanced wireless security cameras. Choose from flexible options such as:
Embedded RTOS design, Dual Core 32 bit DSP
H.265+/H.265/H.264 dual-stream encoding (higher efficiency video recording!)
Dual stream – adjust the network flexible
Optional AUDIO
High quality with stable performance
Free client software support for record, preview, playback
Supports P2P, NAT traversal and mobile monitor
Supports iPhone, iPad, and Android
Privacy Mask and Motion Detection
And more!
Network Video Recorder (NVR) Benefits:
Choose our 3 Camera IP Security System and you choose reliability and versatility. When set-up with a Network Video Recorder (NVR) you can easily connect your cameras to your smart phone or PC. Using our app, you can view your camera's feed at any time. Receive alerts in the form of email, a buzzer, or an alarm output. Choose a recording mode that works for you such as manual or motion detection. More choices include:
Works with iPhone, iPad, Android Mobile
Digital zoom
Varying record rate and resolution
Playback functions: Play, Pause, Stop, Fast Play, Digital Zoom
Back-up to USB or a Network
P2P cloud support
Supports plug and play
Up to 8TB storage
Record mode:Manual\Timer\Motion Detection
2 USB slots
Alerts: Recording, Email, FTP, Snapshot, Buzzer and Screen Tips, alarm output
Contact to our Revlight Security Team ?
Every home and business can benefit from a security camera. Not sure which adaptable system best fits your needs? Call the Revlight Security CCTV Team experts today for a free consultation at +65 6678-6557.
H.264 VS H.265+

Storage Comparison in 8 Scenes

Scenes
H.265+ (Day)
H.264 (Day)
Stream Saved
Road Street
5.19G
40.01G
87.03%
R/D Team
5.33G
40.01G
86.68%
Service Team
4.14G
40G
89.65%
General Manager Office
3.98G
39.8G
90.05%
Reception
3.44G
40G
91.40%
Marketing Office
2.84G
39.49G
92.91%
Parking Lot
2.52G
40.06G
93.71%
Meeting Room
3.16G
40G
92.10%
Average
3.85G/Day
39.92G/Day
90.44%
Recording a Month
115.5G
1198G
Almost 90%